Tron (TRX) price takes a deep dig in the intraday chart.
The day doesn't seem to bring much change in the price of the coin.
Tron (TRX) price marked an escalation in the price from the last couple of days. However, the third quarter has brought disappointment for the traders. The coin dropped from $0.028 to $0.017. We were expecting that the ongoing month would embark the change, but the result is not satisfying.
We have reached almost towards the end of the month. We can only expect a slight improvement. The coming month carries a lot of hope. The month can increase the price of the coin and help it in regaining its momentum. For now, let's read its current momentum in the market.
Current Statistics of Tron:
The coin is dealing at $0.017525.
The ROI is marked as 754.37%.
The market cap is noted as $1,168,610,919.
The 24hr volume is marked as $458,848,534.
The circulating supply is noted as 66,682,072,191 TRX.
TRX to USD Price Comparison:
The chart is taken from Trading View on 27th August 2019 at 04:03:23 UTC for price analysis: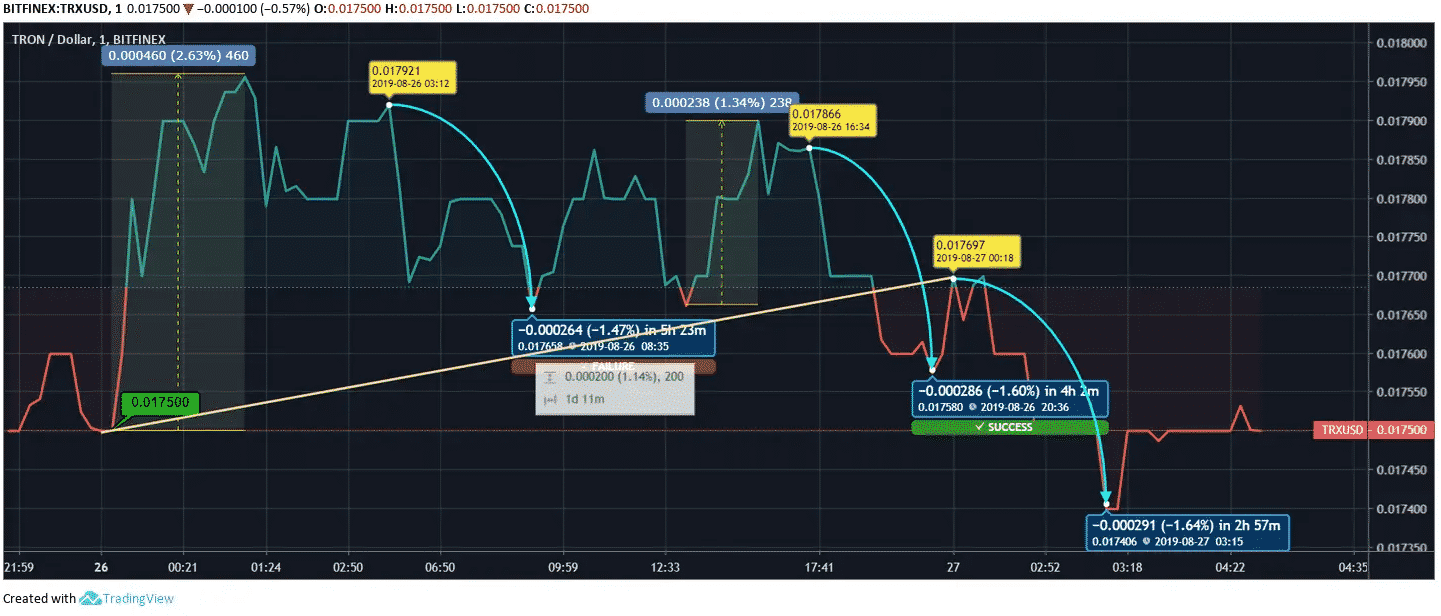 Yesterday, the coin opened with a tremendous escalation of 2.63%. The opening price, $0.0175, jumped to $0.0179. The coin couldn't catch up the uptrend after the same. The coin started falling and took the price to $0.0176 from $0.0179 by 1.47%. There was a slight recovery of 1.34% which changed the price from $0.0177 to $0.0179 by 1.34%. Later, the coin dropped from $0.0178 to $0.0175 by 1.60%. Today, the currency slipped from $0.0176 to $0.0174 by 1.64%. We can also observe a slight recovery on the chart.
Tron Price Prediction and Conclusion:
Tron is anticipated to have a flourishing time ahead. The current scenario might not be impressive, but the currency has a promising future. The coin is anticipated to close the year around $0.040. The traders can mark a change in the price of the Tron by 4% to 5%.
The currency would give the best result to the long term traders; thus it would be the perfect plan to execute.